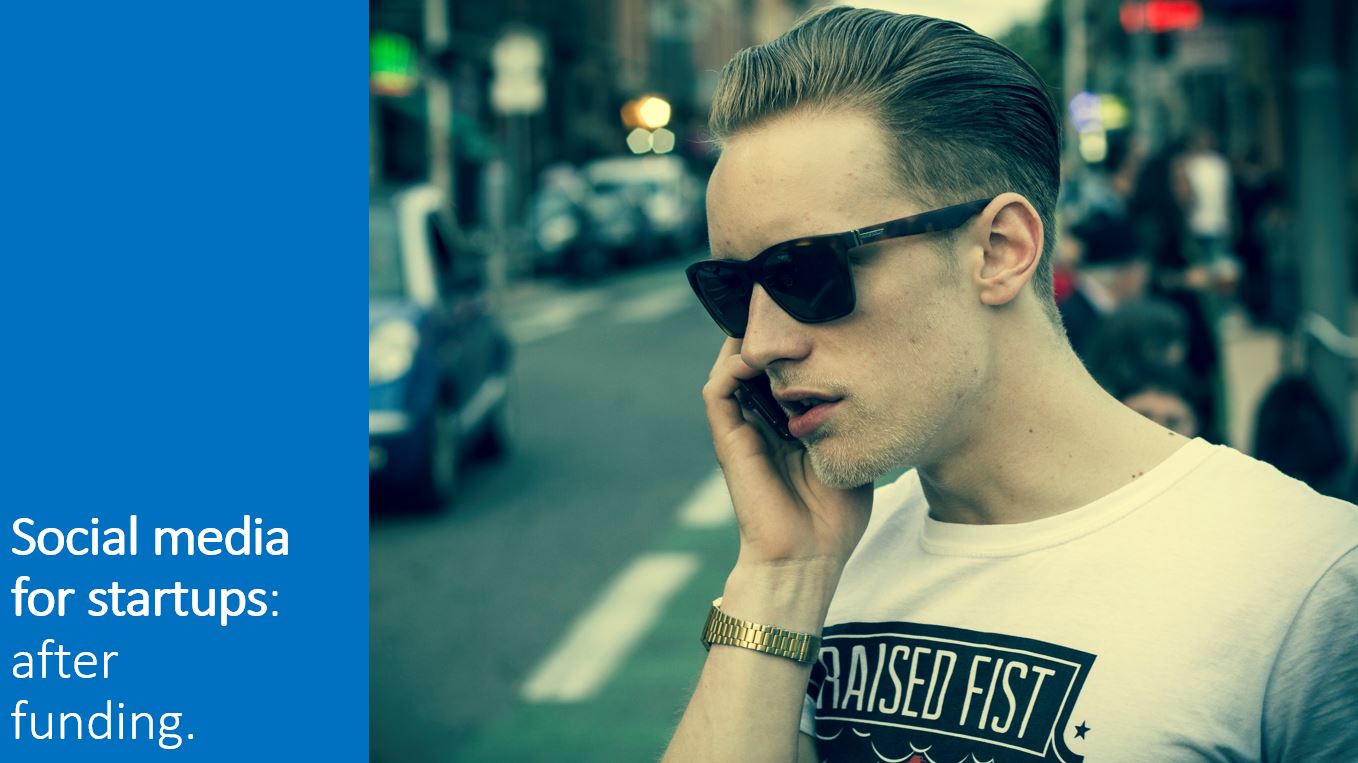 In our previous blog, we discussed the role that social media can play for a B2C startup company before it has secured funding, (this effort being distinct from social media benefits for a B2B startup which has just secured funding). Following on from the previous blog, this week, we will be looking at the benefits of social media to a B2C startup in the post-funding stage.
It's almost always harder to raise capital than you thought it would be, and it always takes longer, so plan for that if you've not reached that stage. If you're there, watch the world change after the shareholder agreement is signed and the funding is released from escrow – whether at the seed stage or at the angel level. It's fair to say that the more funding you raise, the greater the changes – a new office perhaps, new staff, board meetings, sick leave and holiday pay, reports to investors, performance reviews, personal guarantees (yikes!) – and the list goes on. In short, you're busy. Very busy. And things matter now more than they did before. Your work is going to fill a large part of your life and tech startups win by racing ahead with quality execution.
Even if a company has in-house marketing resources after funding, we would strongly advise against subsuming social media responsibilities within the new team. Entrepreneurs see what others can't, so outsource your social media management and let those experts do what you can't.
social media does need to be professionally managed
Taking social media duties in-house typically results in attending to your social presence 'when there's time', or worse, letting the founder loose on the account, or worse still, allocating it to the intern. And who runs the account when the in-house social media resource is ill or is on vacation? By all means, supplement the social streams with relevant news and updates, but we've seen the problems that can arise after clients come to us with their tail between their legs. It's not pretty, and if you're going to start up, make sure you start up with excellence in mind. Most people can't write to a professional level (despite everyone thinking they can) and it quickly shows in your front of house. Delegate to experts, build a team and a set of external resources to draw upon, cost effectively.
Once funding is secured, there is a natural inclination to switch attention away from everything other than sales and product. In fact, for a B2C tech start-up, the post-funding stage needs to be supported by intelligent and relevant social amplification and engagement with customers, prospective customers, the press, and authorities and influencers in your consumer space. While social media efforts won't help with direct, easily measurable customer acquisition (see our blog here), it can be invaluable in other ways – and social media does need to be professionally managed. If everything seems under control, you're not going fast enough, and outsourcing your social media to a professional agency will release your small team from highly specialist work so that you can all focus appropriately. You will need to focus and race ahead.
Seizing the moment
Immediately after your B2C business receives investment, you need, more than ever, to present the company as a leader in your space, and to hammer out your proposition towards growth and monetization. Let's face it, no sector will ever be so important that merely participating in it will be enough to build a great company. In our experience, we recommend chasing the vision, and not the money. That way, the money will end up following you. And as the founder of LinkedIn points out, if you aren't embarrassed by the first version of your product, you shipped too late. Your company needs to start conversing over social channels about the successful experiences of customers, any partners it might have, and strengthening press coverage. It's a task which requires professional social media experience combined with expert copywriting and some technical wizardry to maximise influence and amplification.
When you use Thank Social as a service, we'll talk with you about your brand and competitors, familiarise ourselves with your team and structure, and understand your vision and direction. We then help define your tone of voice, understand your ambitions and aspirations, and map out respective social media techniques and campaigns. One of our clients relied on supermarkets to distribute their technology, and while they were a B2B business, they wanted to engage with consumers only so that they would appear popular so that other supermarkets would stock their tech. It worked. It's all more sophisticated than handing over social media to the gap year student or office junior; in this instance, our strategies resulted in engendering consumer engagement and targetting retail suppliers. When the startup went in to speak with the supermarkets, the supermarkets already knew who they were. They even mentioned the great following on Twitter.
68% of consumers visit companies on social media sites before purchasing
Prospective customers look at social feeds of businesses in order to gauge trust and understanding before parting with their money, especially when they're B2C tech businesses. They'll be reviewing your Facebook page and following you on Twitter in a heartbeat. A recent study by Millward Brown revealed that 68% of consumers visit companies on social media sites before purchasing. While there may not be a measurable cause and effect between your social media streams and your customer acquisition costs, you can be sure that social is having a very positive impact. Moreover, keeping the customer front of mind through regular social media postings and engagement is great for repeat business and word-of-mouth recommendations. One of our clients sells low-cost digital music through a mobile app streaming service, and keeping the customer base engaged with the latest musical insights is key to keeping the service front of mind for the consumer. Sustaining the service in the mind of the consumer improves repeat purchasing, which in turn helps achieve a customer lifetime value. This is an example of customer retention rather than acquisition, and we ran regular competitions for the client on both Facebook and Twitter with consumer prizes of free music credits; consumers loved it, and for very little reward during competitions, publicised the service to their friends.
Our engagement
When we are first engaged by a new client, we take a close look at what they are about and what they want to achieve. We'll fully expect this to change over time as they refine their technology, business model, and proposition. We respond to this change depending on where the company is in its development, whether pre- or post-funding, and what timelines have been set for goals. Indeed, one of our clients pivoted from B2C to B2B.
The techniques and the strategies we implement are bespoke fitted to your business model and business objectives. So that you can get on with the nitty-gritty of running your business and refining your strategy and building your consumer base, let us take care of your social media with our professional writers, researchers, technical experts, and social media specialists.