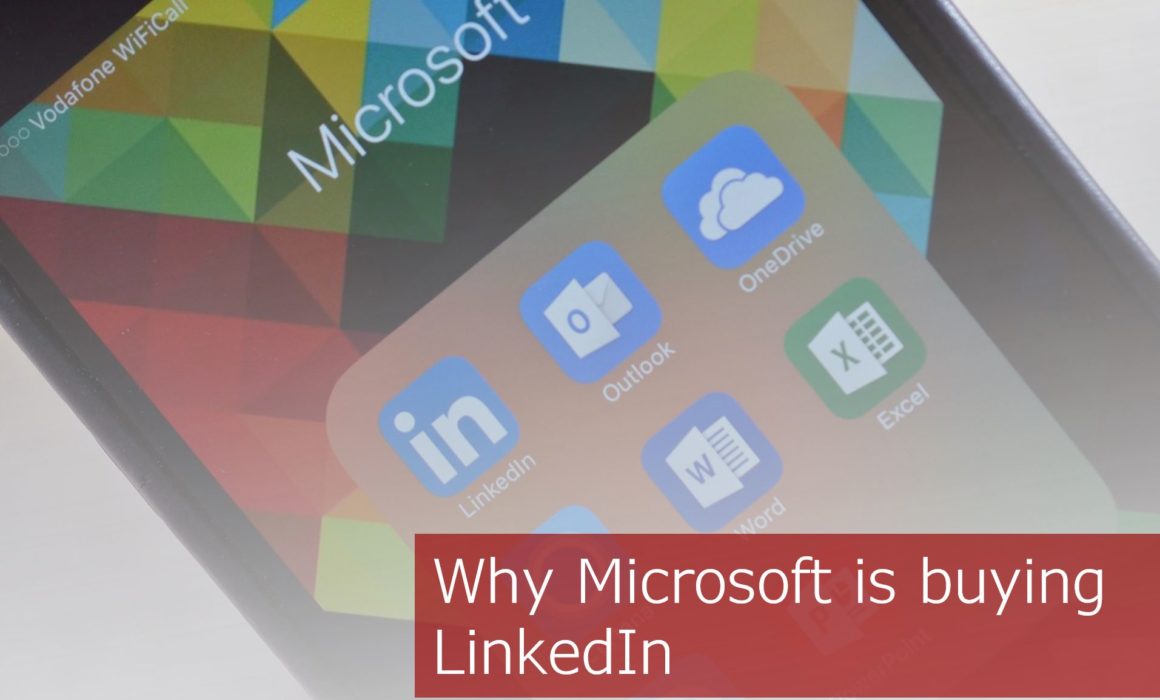 In our last blog on May 10th, we wrote about the facts, joys and woes concerning 'Facebook for Work', a new Facebook initiative bubbling to the surface with the goal of creating a dedicated version of Facebook solely for the workplace – and, unusually, it's being developed in London. You'll find the separate Facebook mobile app and a separate web login for work here. We also discussed the enterprise opportunities of using such a social tool to interact with company team members using all of the tools available within Facebook, such as wall postings, private and public groups, status updates, messaging – and the rest. We suggested how Facebook might empower an ecosystem of enterprise apps to support these activities from within Facebook and through Facebook Connect for Work.
Perhaps it's less surprising then, that yesterday saw the surprising company acquisition of LinkedIn by the behemoth Microsoft. While it's not yet a done deal, it's likely to shoot through approval seamlessly now both company Boards have agreed terms. We know that Microsoft previously made an offer for Slack, was interested in buying Salesforce, succeeded in entering the enterprise social networking space by buying Yammer in 2012, and even made a large investment in Facebook prior to floating – but buying LinkedIn was a surprise to many. We don't expect it to be another Nokia-type failure, and, for the record, we now think Google buying Twitter out of IPO is more realistic, so place your bets.
The obvious advantage over Facebook for Work is that LinkedIn obviously already exists, and people have already reached out to and connected with a relevant business network.
Ok, so it's easy to imagine Microsoft-owned Skype being integrated into LinkedIn in order to promote business calls and instant messages, and vice a versa, but what's the bigger picture here? Are there similarities to Facebook's intentions to create such a professional, collaborative work space? In LinkedIn there are groups of employers and employees, there are newsfeeds which you can 'Like', and developers can create social apps and services through LinkedIn's API and programmatically access the LinkedIn social graph. And there is plenty of information about users that can be used to help find leads, open conversations, and close deals – enter Microsoft Dynamics, but now tied to LinkedIn's Sales Navigator to transform the sales cycle with actionable insights.
Microsoft seems well positioned to integrate existing and new software on top of the LinkedIn social graph, in fact much more so than LinkedIn ever has been – providing deep integration to their suite of artificial intelligence tools and services, and of course integration into Office 365. We predict lots of new functionality from Microsoft and Microsoft Partners, perhaps Periscope-like live streaming of professional business events once the system is tied into Skype (it's already been trialled in Skype), and new Slack-like features that enable structured collaboration with employees and colleagues through LinkedIn. The obvious advantage over Facebook for Work is that LinkedIn obviously already exists, and people have already reached out to and connected with a relevant business network. Facebook for Work is still very much in private Beta, although the force and wealth of Facebook shouldn't be underestimated, now with 900m MAU on Messenger alone – of course, now with it's own VOIP facility.
As Microsoft's CEO himself recognises, "How people find jobs, build skills, sell, market and get work done and ultimately find success requires a connected professional world."
It's easy to imagine connecting with someone through LinkedIn, using Office's calendar to arrange a Skype call, and sharing documents and workspaces using Microsoft's Online Office Suite before or during the meeting. It's also easy to see how newsfeeds might serve up articles based on current work projects, and at an opportune point, suggesting an expert to connect with in order to help with your tasks. You may even find it 'auto-headhunting' and recommending jobs while creating your CV using Office 365's online Word software. The possibilities are endless. Microsoft has made a big play with their SaaS Office 365 suite over the last decade, just as Google has done with their suite of SaaS tools. And with centralisation of data on the cloud comes opportunities for big data analyses of content for improved targeted advertising.
Here's a new, powerful channel for Microsoft to sell more of its products and foster an ecosystem of exciting and useful enterprise functionality.
Let's not forget that LinkedIn brings some impressive user stats to Microsoft: The service is active in more than 200 countries, has over 400m users, over 100m monthly active users, 7 million active job postings at any one time, is very big on mobile, and wait for it, has 45 billion quarterly page views to squirt it's Bing ads onto (ker-ching!). We won't dwell on the benefits of $3bn LinkedIn revenue in 2015 for now, but you can see the attraction there. We calculated the average price per user was sixty bucks, which is about a month's worth of LinkedIn professional usage, so maybe on that basis alone, it wasn't a bad deal. On that note, growth of LinkedIn has been slow of late, and this could be just what the doctor ordered.
With the LinkedIn acquisiton also comes Lynda.com, an online learning environment with the potential to empower Microsoft to become the go-to place for professional development. It's easy to see how Lynda might be used to help sell Microsoft software products, providing automated and even real-person assistance in learning to use them – all through LinkedIn's rich social graph. Configuring some of Microsoft's products can require very specialist skills, and being able to tap up and pay an expert on-demand to help via the LinkedIn directory of connections would seem very powerful.
Another quote from Microsoft's CEO yesterday underlines their ambitions here, "This deal is the next step forward for Office 365 and Dynamics as they connect to the world's largest and most valuable professional network. In essence, we can reinvent ways to make professionals more productive while at the same time reinventing selling, marketing and talent management business processes."
So here's a new, powerful channel for Microsoft to sell more of its products, foster an ecosystem of exciting and useful enterprise functionality, all integrated into a very powerful social graph for increased collaboration and communication.
Mind your back, Facebook. Your Facebook for Work initiative is powerful, but there's a train coming, fast.